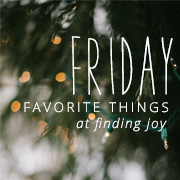 I'm linking up with Finding Joy and Bigger Picture Blogs today to talk about my week's favorite things. If you want to join in or read about some favorite things to be thankful for, click the pic or link and head over there now.
Yes, it was an incredible a week! That was written with the tone of "wow, it was awesome!"
There are many favorites for this week, but these top the list:
I've watched a young mom fight through multiple challenges for a year and a half now. Sunday I witnessed that mom step into her role as our churches new Children's Ministry Director. God is working miracles in this girls life. I am so proud of you, Jessica!
Another person I've been watching grow is my son. Getting to go on a "mom and son" date Tuesday was the best. We haven't done that in awhile. It gave us time to talk about the future and his upcoming graduation from college in May. Why do little boys grow up so fast?
Another favorite was watching a class full of GED students come together and celebrate Thanksgiving. I loved the laughter. I loved the smiles. I love watching their self-confidence grow every week.
It was a great week. A favorite week.
How was yours? I want to hear about it.